Transportation
We identify new solutions to transportation problems, on the ground, in the air, or on the sea, transport of people or goods, whatever the mode. We focus on technical solutions, but also on their impact on the system as a whole. We are also interested in the interactions of the transportation systems with the land use, the economy, the environment, etc.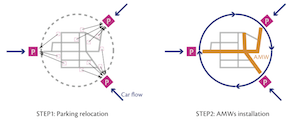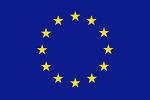 This project is conducted on a fellowship "The EuroTech Postdoc Programme". A car-free city center is a valuable solution for decreasing traffic congestion and CO2 emissions, and improving active mobility and quality of life. To achieve these goals, one of the biggest challenges is the relocation of parking places scattered in the inner district, which cause cruising for available parking as well as car inflows. A possible solution is a "fringe parking" system, which groups parking into a limited number of spots on the border of the district. However, this may decrease the level of accessibility moving the parking away from the final destinations. The key idea of this research is to use "accelerated moving walkway" (AMW), a novel transport system, in combination with a fringe parking system to design a car-free city center with high accessibility. The goal of the research is to propose and identify the optimal configuration of a fringe parking system with AMWs, as a solution to city centers. The main methodologies are network design optimization and traffic assignment.
Principal investigator

Michel Bierlaire

Project manager

Yuki Oyama

Sponsor

Period

October 01, 2018-September 30, 2020

External collaboration

Constantinos Antoniou (TUM)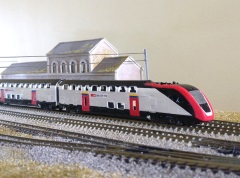 This research project aims to update and improve the microscopic activity-based demand model developed and maintained by SBB. Specifically the research intends to address the following questions: 1. Ownership of mobility instruments: Which metrics and specifications can be added to the current model, in order to improve its ability to forecast mid-and long-term ownership of mobility instruments? More specifically, how can the notion of accessibility be integrated to the current model to capture more complex mode interactions? 2. Mode choice model: Can a tour-based approach be used to model mode choice? In addition, how can the processes to estimate destination and mode choice (currently nested) be combined to generate results that are consistent with observed mobility behaviors at different time horizons (short, mid, and long-term)? 3. Tour and activity generation: How can the generation of tours and activity patterns be combined to allow modelling of joint decisions?
Principal investigator

Michel Bierlaire

Project manager

Tim Hillel

Sponsor

Period

March 01, 2019-March 01, 2020

Collaborator

Janody Pougala
Expertise
Transportation Research
Operations Research
Discrete Choice Models
Methods
Modeling, optimization, simulation
Research themes
List of projects