Melvin Wong
This page reports only the academic work registered in the databases of the Transport and Mobility Laboratory, and is not necessarily a comprehensive list of the work by Melvin Wong.
Select an item on the menu on the right. If no menu appears, it means that no record is in the database for the moment.
More information may be available here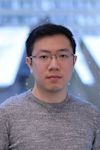 Technical reports
Wong, M., and Farooq, B. (2020). ResLogit: A residual neural network logit model. Technical report arXiv preprint arXiv:1912.10058. Transport and Mobility Laboratory, ENAC, EPFL.
Awards
Melvin Wong : Swiss Government Excellence Scholarship for Foreign Scholars and Artists, May 12, 2020. Institution: Federal Commission for Scholarships for Foreign Students (FCS). Description: Each year the Swiss Confederation awards Government Excellence Scholarships to promote international exchange and research cooperation between Switzerland and over 180 other countries. Recipients are selected by the awarding body, the Federal Commission for Scholarships for Foreign Students (FCS).
Reviewing
Total: 3 reviews for 3 journals (since 2004). Per year: 2020: 3.
Research projects
OrgVisionPro: Automated organizational design and optimization

Sponsor: Innosuisse (Swiss Innovation Agency)
Team: Michel Bierlaire (PI), Tim Hillel (PM), Melvin Wong, Rico Krueger, Nour Dougui
Period: October 01, 2019-April 01, 2021
This project, joint with CLEAP S.A., is will develop advanced analytics algorithms to propose organization design (OD) scenarios based on the existing situation, constraints, and future needs of a business. These scenarios will support organizations in shaping their future by optimizing their structure and operating models.
Regular teaching
Year: Fall 2020
Section(s): Mathematics, Master in Financial Engineering
Lecturers: Michel Bierlaire, Meritxell Pacheco, Tim Hillel
Teaching assistant: Melvin Wong, Rico Krueger, Janody Pougala, Nicola Ortelli
Year: Spring 2020
Section(s): Doctoral program in Civil and Environmental Engineering
Lecturers: Michel Bierlaire, Rico Krueger, Melvin Wong