Zhengchao Wang
This page reports only the academic work registered in the databases of the Transport and Mobility Laboratory, and is not necessarily a comprehensive list of the work by Zhengchao Wang.
Select an item on the menu on the right. If no menu appears, it means that no record is in the database for the moment.
More information may be available here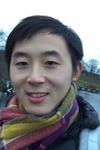 Book chapters
Bierlaire, M., Scarinci, R., Nikolic, M., Oyama, Y., Molyneaux, N., and Wang, Z. (2020). Methodologies for understanding and improving pedestrian mobility. In Ole B. Jensen, Claus Lassen, Vincent Kaufmann, Malene Freudendal-Pedersen, Ida Sofie Gøtzsche Lange (ed) <em>Handbook of Urban Mobilities</em> (ISBN: 9781138482197). Routledge.
Regular teaching
Year: Spring 2018
Section(s): Doctoral program in Civil and Environmental Engineering
Lecturers: Michel Bierlaire, Yuki Oyama, Nikola Obrenovic, Riccardo Scarinci
Teaching assistant: Gael Lederrey, Zhengchao Wang
Project supervision
Semester projects
Location choice equilibrium - pedestrian demand analysis at EPFL campus, Tianyang Dong (MA), June 03, 2019
Optimal taxi charging decision given the real-time charging station and taxi states and future uncertainties, Julien Johan Haan (Section of GC), Loic Senser (Section of MTE) (GC), January 25, 2019
Locating charging station for electric taxis, Oliver Mathias Buschor, Younes Bensaid, December 21, 2018
Sustainable & intelligent transportation evaluation and plan, David Gunter, July 20, 2018