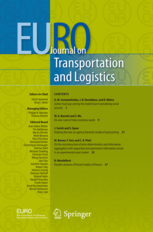 The EURO Journal on Transportation and Logistics has been officially launched on July 15, 2011 by EURO, the Association of European Operational Research Societies.
Aim and scope
The EURO Journal on Transportation and Logistics promotes the use of mathematics in general, and operations research in particular, in the context of transportation and logistics. It is a forum for the presentation of original mathematical models, methodologies and computational results, focussing on advanced applications in transportation and logistics. The journal publishes two types of document: (i) research articles and (ii) tutorials. A
research article
presents original methodological contributions to the field (e.g. new mathematical models, new algorithms, new simulation techniques). A
tutorial
provides an introduction to an advanced topic, designed to ease the use of the relevant methodology by researchers and practitioners.