Sunday, March 24 - Thursday, March 28, 2019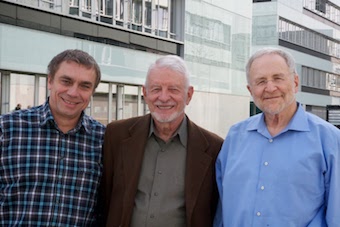 Schedule
Sunday, March 24, 2019
Time
Lecturer
Lecture
09:30 - 11:00
Ben-Akiva
Introduction. Choice behavior and discrete choice models
11:15 - 12:45
Ben-Akiva
Specification and estimation of choice models
14:15 - 15:45
Ben-Akiva
Specification testing
16:00 - 17:30
Computer Lab I: Introduction; Logit estimation and testing
Monday, March 25, 2019
Time
Lecturer
Lecture
09:30 - 11:00
Ben-Akiva
Nested Logit Models
11:15 - 12:45
Ben-Akiva
Multivariate Extreme Value Models - Aggregate Forecasting and Microsimulation
14:15 - 15:45
McFadden
Stated preferences methods
16:00 - 17:30
Computer Lab II: Nested logit; Aggregate forecasting
Tuesday, March 26, 2019
Time
Lecturer
Lecture
09:30 - 11:00
Bierlaire
Mixture Models
11:15 - 12:45
Bierlaire
Simulation-based estimation
14:15 - 15:45
Ben-Akiva
Combining RP and SP
16:00 - 17:30
Computer Lab III: Logit mixtures; Combining data
Wednesday, March 27, 2019
Time
Lecturer
Lecture
09:30 - 11:00
Ben-Akiva
Sampling and estimation; Endogeneity
11:15 - 12:45
Bierlaire
Discrete Panel data
14:15 - 15:45
McFadden
Bayesian estimation
16:00 - 17:30
Computer Lab IV: Hierarchical Bayesian Estimation; Individual Prediction
Thursday, March 28, 2019
Time
Lecturer
Lecture
09:30 - 11:00
McFadden
Behavioral Foundations
11:15 - 12:45
Ben-Akiva
Models with latent variables
14:15 - 15:45
Questions and answers
16:00 - 17:30
Computer Lab V: Hybrid Choice Models [OPTIONAL]
A welcome reception will be organized on Sunday, after the class, from 5:30 to 7:00pm.
A banquet will be organized on Wednesday at 7pm
Topics
Fundamental methodology
Data collection
Model design issues
Model estimation issues
Forecasting techniques
Examples and real case studies
Important dates
January 14, 2019:

February 24, 2019:

March 23, 2019:

March 24-28, 2019:
Important notice:
deadline for scholarships applications
deadline for early registration
deadline for late registration
course
the course is organized from Sunday to Thursday.

Registration
Who should attend?
The course is designed for professionals (from industry and public authorities) and academic researchers (professors, researchers, PhD students), interested in understanding and predicting consumer choices, demand and market share, such as marketing analysts, managers, planners, economists, engineers, operations researchers.
Contacts
Transport and Mobility Laboratory (TRANSP-OR)
EPFL ENAC IIC TRANSP-OR
Station 18
CH-1015 Lausanne